Climate Change Increases Dangers for Oakland's Fire Response
But There is Still A Way Out, OFD Captain Says!
Since the thunderstorm on Monday, large fires have been ravaging California, with no pause in sight. While most of the fires have been directly caused by lightning strikes and California's recent heatwave, the underlying reasons for causes are a lot more insidious and long-term.
Recently, California has been subject to many wildfires, which are now occurring year-round. California has been seeing an upward trend in the number of fires each year, from 28,821 wildfires between January 1st and August 10th in 2019, to 33,917 from the same period in 2020, according to the National Interagency Fire Center (NIFC).
Captain Damon Covington, one of the training coordinators of the Oakland Fire Department, has worked hard in recent months to help quell wildfires raging around the Bay Area. Covington is an O'Dowd Alumnus, and as well as being a Fire Captain, is the president of the Oakland Black Firefighters Association.
"This is one of the more dangerous times of the year for all of California really, because vegetation has dried out due to the heat," Covington said in an interview on August 19th. "This year has been an even hotter summer than we've had recently."
However, it's not just the local fire departments which are under pressure to quell the flames. When a large number of fires occur within the same time period, groups from each city have teams of firefighters called "strike teams," which answer the call for help when the local fire department cannot handle the fire themselves. This leaves the other cities understaffed, which creates a vicious cycle.
Normally, wildfires birthed in rural areas are contained before they reach the more urban areas of the Bay Area. However, places in the Bay (such as Bishop O'Dowd) are built in areas called "The Wildland Urban Interface," meaning they are the closest to the wilderness, and thus prone to the effects of wildfires.
Another problem California faces is the non-fire season, or lack thereof. In California, there has always been a fire season, a time in which many wildfires spring up. But lately, due to global warming, the peaceful time period when little to no fires occur has grown smaller and smaller.
"Because temperatures are so much hotter now for longer periods of time, now you start seeing the vegetation dry out a lot faster, and you see longer fire seasons. They used to be from maybe June to August, and then things would calm down, but now it's year-round," Covington said.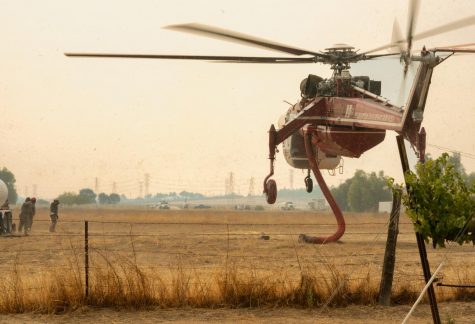 He believes there is still hope, however. If the citizens of the Bay Area work together as a community and do their part in protecting the land, these fires could potentially calm down.
As he remarked, "Hopefully this is a wake up call for everyone, that we all need to get involved and be more efficient with even what we use at home. The rolling power outages we've been seeing have mostly been because of our overuse of the electrical grid."
"So if we could be more efficient with the electricity at home, if we could be more efficient with our water, when we water our lawns and wash our clothes… we could go a long way towards clocking back on some of the deadly effects that we're seeing," he added. 
While California is in a tough situation at the moment, there is still opportunity for change, and the students of O'Dowd, as well as the greater community, have the power to change their lifestyle to help the state and the world in full.