You Can Still Celebrate This Election
Donald Trump's disputes of the Biden-Harris victory on Saturday should not keep you from celebrating.
On Saturday I had a shift at my job on College Avenue in Berkeley. As I walked through the front door, there was cheering, singing, dancing, and honking, which only grew louder as my shift continued throughout the day. I work at a party store and the amount of red, white, and blue balloons that I sold far outnumbered those that I sold on July 4th this year. When I played "Party in the USA" by Miley Cyrus, a woman even came in the store to start a dance party with other customers. I have never felt so proud to live in the Bay Area.
In contrast to the large celebrations, Donald Trump and other conservatives' actions have given Democrats a lot to worry about. This Saturday, November 11th, Joe Biden was declared the winner of the 2020 Presidential Election. As of November 9th, he has 290 electoral votes, while Donald Trump has 217 electoral votes. Despite the clear majority of both popular and electoral votes favoring Biden, Donald Trump, other government officials, and many Trump supporters have disputed the win, claiming that the election was rigged.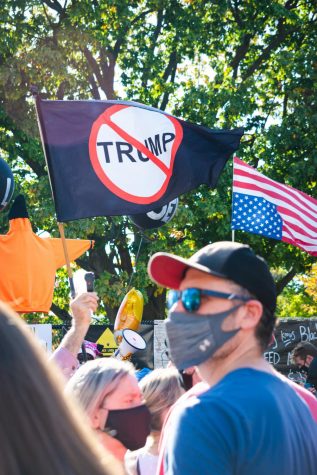 On the day of the declared winner, Trump tweeted, "I WON THIS ELECTION, BY A LOT!" He has also claimed that votes were illegally received on election day and that there was no "transparency" in the vote counting. On November 9th, Mitch McConnell, the Senate Majority Leader, stated that President Trump is "100% within his rights" to fight election results. Many groups of Trump supporters are also protesting the results through rallies. 
However, Trump is going further than making empty statements on social media. He is mounting a legal battle in states such as Nevada, Pennsylvania, Michigan, and Georgia. These lawsuits have included: requests to stop counting ballots, allowing the Trump campaign observation of the vote counting, etc. Many of the suits have already been dismissed by judges, but many people still speculate one or more of the battles will move to the Supreme Court. 
Donald Trump will not easily accept his defeat, but this should not diminish the celebration of achievements made in this landmark election. In his victory speech on Saturday, president-elect Joe Biden preached the necessity for unity in the country, especially in such unprecedented and politically polarized times. He also pleaded with the nation to discount Trump's claims of victory. In an especially important moment, Biden promised "to rebuild the soul of America, to rebuild the backbone of this nation, the middle class and to make America respected around the world again," and "to be a president who seeks not to divide but unify, who doesn't see red states and blue states, only sees the United States."
People around the world are also celebrating Kamala Harris' win as the first person of color and first woman to be elected vice president of the United States. Many people are marking this moment as a win for women in the U.S., as Harris has become arguably the most powerful woman in the country. The trending slogan "the future is female" has also been altered to "the present is female" across social media platforms. Kamala's victory also marks a historical moment in the fight for racial justice. Throughout her presidential run and vice-presidential run, Harris faced sexist and racist attacks by voters and government officials, yet her win proves not only her resilience but the resilience of women, especially women of color, as a whole.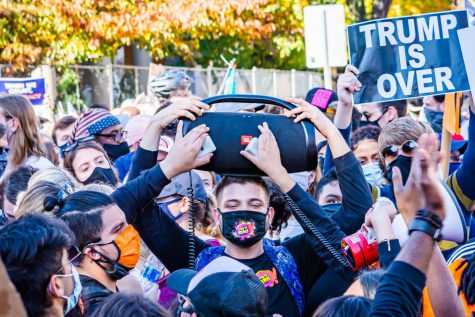 The Biden-Harris win is not the only victory of this election, however. Despite Trump's attempts to suppress voters, especially in majority people of color communities, voter turnout reached a record-breaking high this year. Many people also transitioned to mail-in-voting systems, even though much of the right-wing media attempted to discourage it. People across the country are claiming this as a win for democracy.
Although the election has sparked massive controversy and disputes across the country, which many were anticipating going into election day, people should not stop celebrating. It may feel as if political polarization is only growing worse after November 7th, but the unity within the Democratic Party and, for the most part, the Bay Area is something to commemorate. Women and feminists of all genders should also feel this election as a win, especially those who wish to go into politics and government or change the world someday. 2020 is undoubtedly one of the hardest years most of us have faced, and the legal battles, Trump rallies, and government controversy should not keep you from celebrating the one good thing that came from the year. So dance, sing, scream, cry, and celebrate; fights are not over, but the 2020 election marks a victory for unity over division.