My Interfaith Family and How We Celebrate the Holidays
An insight into my Jewish and Christmas-celebrating family
Despite my family not being Jewish, my mom enrolled my sibling in a Jewish preschool, which is connected to a larger temple. She not only liked the preschool, but she began to enjoy the community present within the temple, as it was so welcoming to our non-Jewish family. While she was raised culturally Catholic and later came to enjoy some aspects of the Christian faith, she has always been a strong believer in one light, many candles. As time passed, my family of three started to feel more and more like a part of the community, becoming closer to many families and friends who went to the same school. Eventually, my mom met my stepdad on the playground at the preschool as he was picking up my step-sister from Hebrew school. They formed a connection and eventually began to date. After a while, our families began to spend time together, including occasionally attending services. Rosh Hashanah, Yom Kippur, and later, Hanukkah, exposed me to a variety of different Jewish traditions.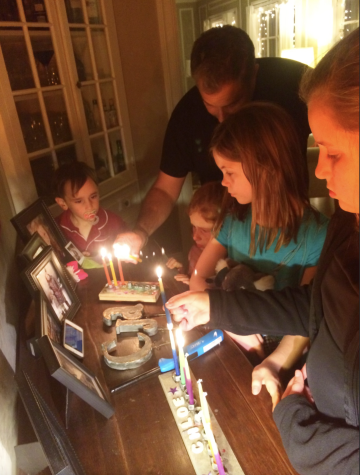 I have always enjoyed this exposure to Jewish practices from going to temple and different services and events. I appreciated the music, with its lower melodies and unique major scale. Within a year or so of our two families spending time together, I attended my older step-sister's Bat Mitzvah in fourth grade and eventually read a prayer at my young step-sister's Bat Mitzvah in my sophomore year!
When it comes to celebrating Hanukkah, my mom, sibling, and I don't receive nor give gifts every night, but we almost always participate, at least lighting candles together for most of the 8 nights.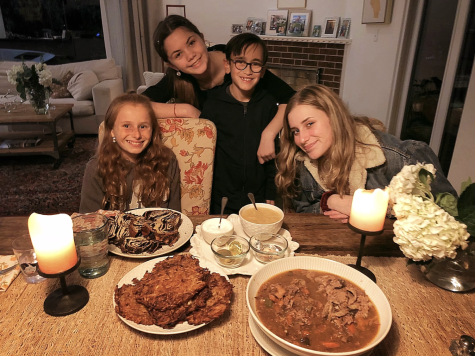 This photo shows one of the first times we all celebrated Hunnakah together (I'm in the blue shirt). The second photo, taken years later in 2018, shows my siblings and me with a variety of classic Hanukkah and Jewish foods. In the front, you can see a plate of latkes (my personal favorite Jewish food) with a plate of sour cream and apple sauce to pair with it. Next to it is a bowl of brisket and in the back is marble cake, however, according to my step-dad, it would normally be swapped out by rugelach, a baked Jewish good. You can also see on the plate sour cream and apple sauce, a bowl of dreidels, and another bowl of gelt.
Dreidel is always a fun game for the siblings to play and I have come to (sort of) know what the different Hebrew letters signify.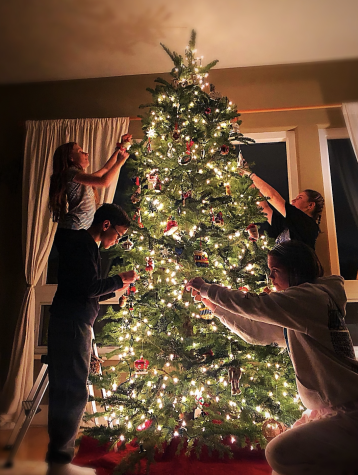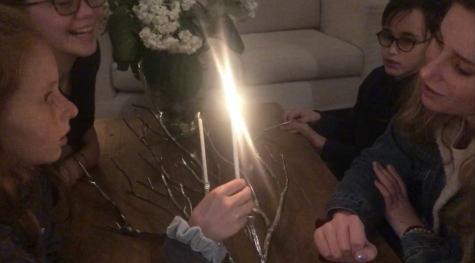 As for my Jewish family, they have joined our Christmas traditions as well! In this photo, you can see us 4 decorating the tree. For my Christmas celebrating family, decorating the tree has always been a special family tradition. Many of our ornaments hold significance, whether they are a special heirloom or a souvenir from a family trip. My step-family has been incorporated into this practice as my mom has bought and customized ornaments for them, adding more significant decorations to our tree! Overall, learning and experiencing various aspects of Jewish culture and traditions has been super interesting and enjoyable! Celebrating both holidays each winter season is always fun for my family – who doesn't love an extra celebration?