Taylor Swift Reintroduces Herself in Midnights
Swift's tenth album is a moody pop spiral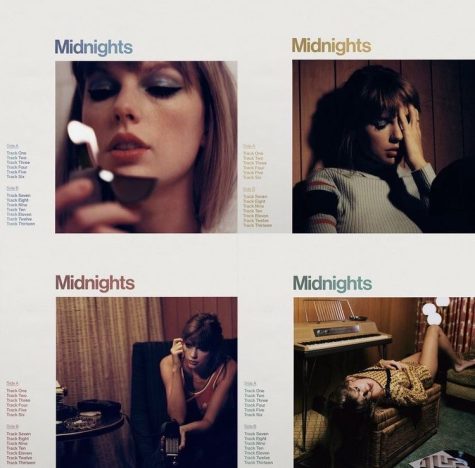 In Taylor Swift's 10th studio album she welcomes the listener into a dreamy, immersive world of sparkling synths and pulsing whispered vocals. In Midnightsland, flirtation bleeds into heartbreak under streetlight glare, our narrator spirals in self doubt to stuttering dream beats, and everyone swears incessantly with audible thrill.
Released after the chart breaking success of her two unanticipated surprise release indie-folk albums, Midnights marks Swift's return to pop, and return to autobiography. Marketed as a collection of soul baring songs written in the middle of the night, the record is characterized by relief and self-acceptance. For years now, Swift's public persona has been defined by calculation. Often gaining criticism for her tight fist on the narrative, she's been the queen of staged paparazzi photos, and of course her famed public feuds. In Midnights she directly addresses this facet of her image with nuance. "One day I'll watch as you're leaving/'Cause you got tired of my scheming" she sings on "Anti-Hero", the lead single, in which she facetiously  identifies herself as "the problem," referring to herself with scorn as "some kind of congressman". Contrastingly, on the album's closing track, there is an upbeat pop song, titled, "Mastermind." In "Mastermind, she expresses how she had manipulated herself into a relationship. This song starts out soft and embarrassed, and by the bridge she has a strange kind of pride with the lyric, "I'm the wind in our free-flowing sails/ The liquor in our cocktails". 
Swift's comfortability with herself is her greatest asset on this record, but in places it also hinders her. Tracks like "Snow on the Beach," and, "Labyrinth" lag as she repeats the same lines over and over. In addition, Jack Antonoff's production created a sleepy sound on the B-side of the album. The great successes of Swift's career, commercially, and artistically, have always come from a push to be better. Dramatic shifts in genre, perfectionism, and a need to win back the public's favor have defined her grammy winners and fan favorites. At places in Midnights the absence of this strain is clear, and it feels as if she's resting on her laurels. "Draw the cat eye sharp enough to kill a man," she opens the track "Vigilante Sh*t", quoting a tumblr post from 2013 verbatim. "Don't put me in the basement/when I want the penthouse of your heart," she croons on the upbeat track "Bejeweled", sounding like she's attempting to explain the concept of metaphors to a 7th grade class. These are the types of lyrics you write when you want people to stop calling you the best lyricist of our generation. In the vulnerable track "You're on Your Own Kid", Swift sings of being a teenager and wanting to make a name for herself. As a listener you can't help but miss that hunger, wish she still felt the need to prove herself. 
Despite this, there's enough nostalgia on Midnights for our narrator to maintain her identity as a likable underdog. Swift has many talents that have gotten her where she is today, but a deep willingness to exploit her own insecurities and shame is one that I find often underrated. Here she mines the same feelings of yearning that first made her famous as a teenager, with an added sense of maturity. Throughout the self-loathing, breakup songs, and feelings of inadequacy that define this album, she stays protective of her younger self.