Balancing Social Justice, Covid-19, and a Quest for a Championship
Inside the NBA COVID-19 bubble and their focus on the Black Lives Matter movement.
Never have we seen a summer such as 2020. As the coronavirus invaded the world and shut everything down in March, many hoped that everything would return to normal by summer. This couldn't have been further from the truth.
Along with coronavirus cases and deaths continuously rising, along with a lack of national policy towards the pandemic, an incredibly impactful, necessary, and meaningful social justice movement came into the picture. After the death of George Floyd due to police brutality, the nation erupted with a strong message regarding the Black Lives Matter movement.
Sports has everything to do with this movement. Professional athletes and organizations have millions of close followers. Sports give people hope, joy, and most importantly, bring people together. Despite the pandemic, sports have progressively come back, and athletes have used their stage as a dual platform: first, to display their skill, and more importantly, to project their voices. The fans have been diligently listening.
America has strongly tuned into the NBA's Orlando Bubble. Starting in early August, the NBA moved it's 22 best teams from across the league into a secluded and secure bubble at Disneyworld in Orlando. The NBA saw this as the only viable way for them to continue playing. The entire league lives together on one campus and takes daily tests to prevent any COVID outbreak. Since entering the bubble in August, no NBA players or staff have tested positive, which is remarkable compared to any other organization's handling of the virus. On the other hand, before entering the bubble, the players' organization urged the NBA to have a strong focus on social justice and enabled them to project their voices surrounding social injustice in America.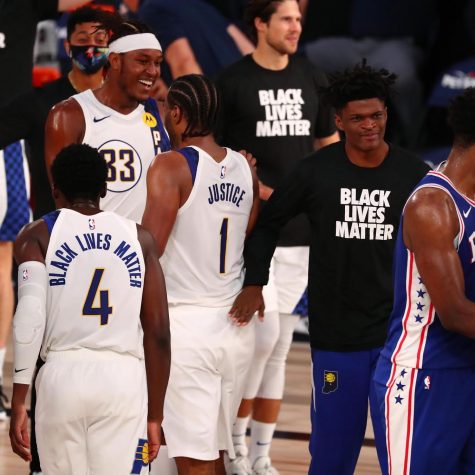 Some of the most obvious statements that the NBA has made surrounding the movement is the painting of the BLM logo on the court. Now every viewer can see that the NBA and its teams are in full support of the movement and urge people to take their own actions to better the country. The players have also used their social media accounts to share important and meaningful information in order to create real change. One thing many players such as LeBron James, Donovan Mitchell, and Marcus Smart have done, is strongly urging law enforcement in Kentucky to arrest the murderers of Breonna Taylor, an innocent black woman killed by police in Louisville in March. They have used their media sessions to mention "Justice for Breonna Taylor," rather than discuss basketball questions, far less important compared to the movement itself. Additionally, the NBA has allowed players to display social justice messages on the back of their uniforms such as "education reform" and "peace." Additionally, LeBron James and his team, as well as a wide web of other black athletes have created an organization called "More Than A Vote," which intends to spread awareness about the importance of voting. The organization is actively creating polling places in order to stop voter suppression and provide a safe and comfortable environment to pre-register and cast ballots.
In an interview with William Calhoun '22, regarding his take on the social justice movements in professional sports, he states, "at a time like this, athletes and the rest of the sports business have a massive platform to speak on, in which they can produce their own positive messages for social reform." On August 26, teams across America struck their games in response to the Jacob Blake police shooting in Kenosha, Will responds, "this gave Americans the opportunity to not be distracted from the issues surrounding police brutality and fully focus on the hardships black people face in America." He later went on to talk about his own feelings surrounding police brutality and racism in America, "despite the amount of money and success a black person has, the effects of racial prejudice, injustice and profiling are felt every single day."
This is a crucial time in the United States, as the spotlight shines bright on social injustices. These athletes have the platform and opportunity to speak out for those who don't have a voice in the country. It is time for all athletes to speak up, using their meaningful voices and experiences to advocate for real change in the structure of the nation.