Getting Creative During Corona: Safe Social Distanced Activities!
During COVID-19, students have been looking for new and creative ways to have fun while staying safe. These are a few.
Quarantine: "an isolating and new experience to most people on this planet". In the middle of March when shelter-in-place began, it seemed as though sleep-deprived, run-down students would potentially catch a break, but the universe took a different route. As every student can attest to, soon after the necessary shelter-in-place progressed, the boredom set in and that feeling has not subsided. 
Aaron Johnson '21 states, "Quarantine has been really difficult. On most days, if I don't go on a bike ride or go hit golf balls, I am extremely bored and end up just watching youtube all day". However, have no fear, the dreary days are over! With these new and exciting ideas, people will be able to kick that boredom to the curb, while still staying safe.
For all of the food lovers, there are great food recommendations from some O'Dowd Dragons. Taco Boys and Pizzeria Delfina – both less than 2 blocks away from mission Dolores park- are two amazing restaurants that are well-experienced in keeping their customers safe during the take out process. Tacos Mi Rancho, a taco truck near Oakland's Lake Merritt, has been raved about by Mays Levy '21. Mays recommends that one take their tacos and admire the gorgeous Lake Merritt. Taqueria Arandas, a Mexican restaurant in Hayward, has an open-air park behind the restaurant so one can enjoy it at a safe distance with friends. This restaurant comes highly recommended by Aaron Johnson, who claims, "I have had the best burrito of my life there!" Cholita Linda, a restaurant with locations in both Oakland and Berkley, has delicious Latin American street food and comes highly recommended by Alex Davis '21.
Quarantine has been inactive and unphysical for many. One great way to keep a safe distance with friends while getting one's blood flowing is hiking. A great spot for hiking beginners is Inspiration Point! It is a paved trail with gorgeous views of the bay as well as a reservoir. There are also other great trails throughout the park that hold more of a challenge, many of them including gorgeous scenic views. Not interested in hiking? How about biking? Biking is a great way to stay in shape while still having a ball. Both the Emeryville and Berkeley marinas are great places to cruise along the bay while enjoying amazing views of the city. 
There are also great at-home activities for those uncomfortable with going outside! Barking is the perfect thing for people who love good food and have a little bit of patience. Even unseasoned bakers can develop this skill, and what better way than joining the O'Dowd baking club? The club will be organizing delicious recipes and tutorials to teach beginners the ins and outs of baking and providing unique recipes for the pros. Despite this being an individual activity, people can share their finished product with friends and family, possibly flaunting new skills by baking a master-piece for special occasions. 
Speaking of special occasions, there are many ways to celebrate in style. A great idea is an outdoor movie in the backyard or large outdoor space. The materials for this outing include a projector, a large white sheet, and something to tie the sheet to. Another possibility is to host a backyard camping trip. Friends and family can finally sleepover and create new memories without breaking social distancing protocols.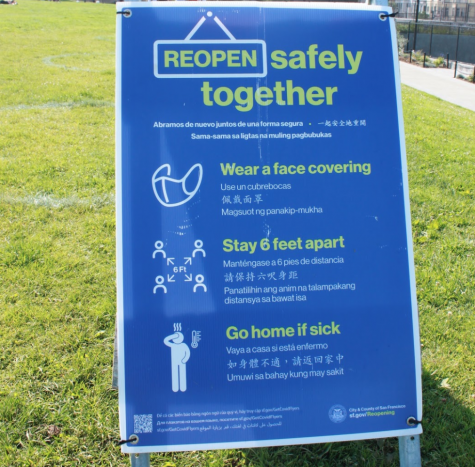 With this time of extended isolation, there is always a silver lining. Cecily Hayes '21, states, "The past few months have been difficult, but I'm lucky to be able to spend my time going to the beach, hiking, and more. I have also been listening to new music and discovering new hobbies". Remember Dragons, there is a light at the end of the long COVID tunnel, but while hanging in there, why not have some safe and responsible fun along the way!