Urinetown: It's a Privilege to Pee and a Privilege to See!
O'Dowd's Spring musical Urinetown is an interactive, enthralling experience. Director Ashkon Davaran once again provides our community with an entertaining yet societally significant piece. Urinetown tells the story of a dystopian society, crippled with ecological crisis, in which people must pay to use the public amenities. "Urine Good Company" owns the public amenities, and the corruption and abuse it imposes causes society members to revolt, spearheaded by custodian Bobby Strong who is played by Ethan Lupoff '23. O'Dowd's rendition captures the essence of the show flawlessly, making its spectators throw their heads back in laughter while reflecting on the tragic relevance of the message. 
Patrons of the Drama Department are graced with the finale of many star seniors, such as recurring performers Anna Challberg '23, Ethan Lupoff '23, Kennedy Amos-Henderson '23, Meara McCarthy '23, and Gracie Rosen '23. ASB president Audrey Ohwobete '23 also makes her stunning debut as Penelope Pennywise. Her featured solo in the opening song "Urinetown" is so exceptional and striking that many lament that this was both her first and last performance on the O'Dowd stage. "The community was so welcoming and open," shares Audrey. "It really was astonishing to see the show take shape over the last couple of months."
Meara takes on the pivotal role of Hope Cladwell, an aptly named character whose joy emanates amidst the show's devastating themes. Even while strapped to a chair and bound by toilet paper, her voice envelopes the James T. Bill '55 Theater, reaching beautiful and melodious heights. 
O'Dowd audiences will grieve the loss of Ethan's contributions to the Drama Department upon his graduation this spring. He achieves the seemingly impossible feat of improving his performance each production, articulating every character uniquely and authentically. He possesses the innate ability to tell any story through the expression of his eyes and communicate any emotion through the tone of his voice. Meara and Ethan's numerous duets are angelic, displaying a perfect blend of soprano and tenor ranges. Happily, both Meara and Ethan will continue their theater careers next fall. Meara will attend Rice University, majoring in theater, where she will undoubtedly flourish and make everyone proud. As for Ethan, he is on the waitlist for Juilliard, which is an astounding accomplishment, and he is set to attend UCLA, where he will major in acting.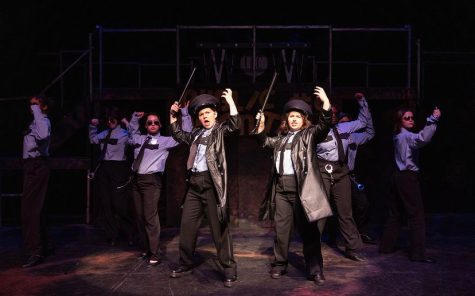 Anna portrays Officer Lockstock, the show's narrator, tacking another lead role onto her already impressive repertoire. Anna has demonstrated the range of characters she can impeccably assume, from Velma Kelly in Chicago, to a grocery store checker in Working, and now to a humorous narrator. Her unflinching confidence and effortless rapport with the audience once again prove that she is a born performer. She will develop her talents at Occidental College, where she will either major in Theater or Political Science. 
Kennedy Amos-Henderson '23 assumes the role of Caldwell B. Cladwell, the musical's antagonist. Their authoritative presence as president of "Urine Good Company" makes the storyline palpable and truly engaging. Kennedy will continue their theater education at San Francisco State University, and plans to get an agent and attend more auditions throughout the Bay Area.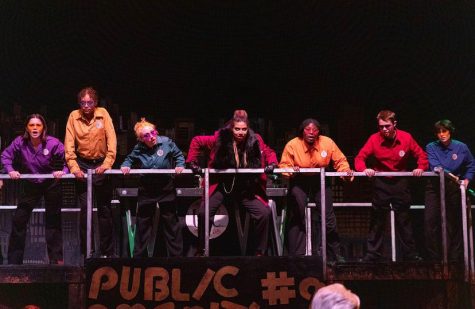 Kimberly Lester's choreography is dynamic, captivating, and amusing. Most notably, the Act 1 finale is energetic and mesmerizing. The full ensemble, composed of individuals from each grade, are costumed with a vigorous attention to detail, creating a full and unifying vision on stage. The ensemble's impact extends beyond the confines of the stage, utilizing aisle space to its maximum potential and turning the performance into an immersive experience. Lighting, music, and set design are all immaculate.  
The show was well received on opening night. "Incredible, hilarious, amazing casting, an absolutely enjoyable watch," audience member Charlie Porter '23 commented. "I always love O'Dowd's amazing theater productions."
Urinetown showcases the beautiful talent of so many O'Dowd students. Audience members will leave stunned by the pure display of simultaneous humor and emotional depth, truly classifying Urinetown as a must-see production.