Bishop's Foodies: Alley's Kitchen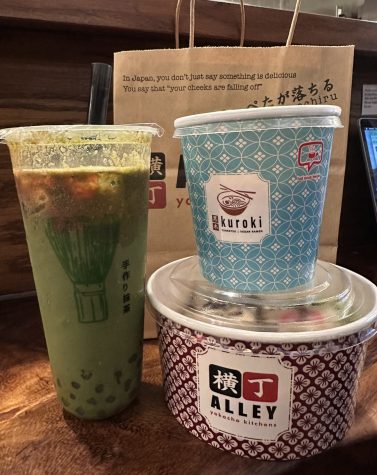 Tucked away in the bustling streets of Telegraph Ave – right near UC Berkeley – is a small restaurant called Alley's Kitchen, serving ramen and boba. Open to everybody, it caters to the large mass of hungry college students and anybody wandering around the busy area from 11:00 am to 9:00 pm. As soon as you enter Alley's Kitchen, you realize this is not a typical dining experience. There is music blasting, an open kitchen, and an exciting environment. It lives up to its name, being that it is the size of an alley and only has two bar seating areas on either side of its narrow space. Most customers pre-order and get takeout, however, for those who enter to eat, there are screens at the door to quickly order and the wait is next to none to receive your food. This restaurant is truly a college experience for students to work, eat, and serve. It could definitely be a go-to place to order from during the brutal hours of finals studying, a late-night snack, or anytime you have a ramen craving and need it in a flash. 
Will and Amia both ordered the classic original Tonkotsu Ramen, Will with extra corn and bamboo shots, and Amia with extra noodles. For drinks, they ordered strawberry matcha and a black tea latte, two classic boba drinks. Surprisingly, the food came before the drinks, but it did not take away from the enjoyment. The ramen was salty, creamy, and packed with umami. There was a perfect ratio of noodles, broth, and toppings. The meat was tender and fell apart as soon they took a bite. To put it simply, it was great ramen. Perfect size, perfect flavor, and perfect to fulfill a craving.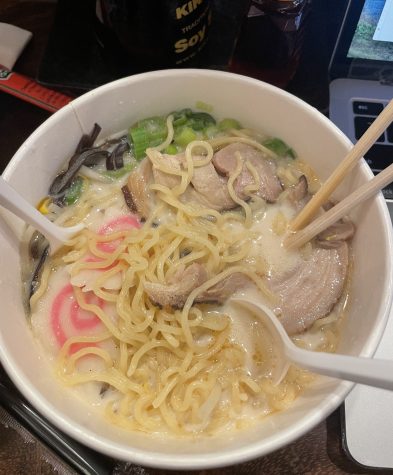 The drinks were a bit of a different story for Amia. The matcha was less than satisfactory. It was bitter, grainy, and chunky and there was a lot of separation between the liquids on the top. The strawberry flavor was lost in the thick taste of unblended matcha and unfortunately, it did not pair well with the ramen. This was quite disappointing since the matcha drinks were well-advertised as one of their specialties. The white pearls were also a bit tough to chew and once again, got lost in the overwhelming matcha flavor. It was a very unbalanced drink, however, it was not the worst boba ever, just below regular standards.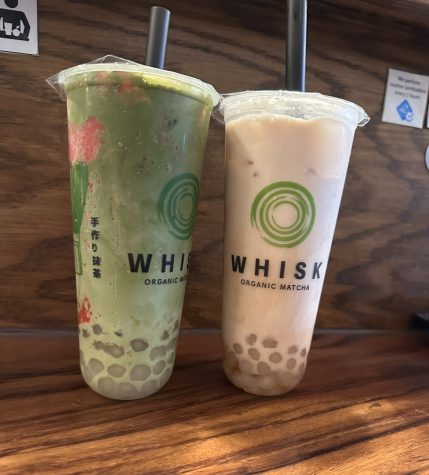 Will on the other hand ordered a Large Black Tea Latte and white pearls, which paired very well with the ramen. It tasted great and had the perfect amount of sweetness. There was not much to say because it was a very simple drink except that he loved it and definitely recommends it. 
In the boba realm, one was worth the wait, and the other left them wishing they were still waiting. When in doubt, go with a non-matcha boba or even just a classic soft drink and there will be a perfect dining experience.
Overall Alley's kitchen was an incredible experience and served as the perfect place to stumble upon on a rainy day. The total came out to $52.45 so it is on the medium to the low end of a price range. It is definitely worth a visit, however, it is highly recommended to order out as the environment is much more suited to take-out. But if you need a quick bite, Alley's kitchen is the place for you, and trust us, it is Bishop's Foodies approved.