The Rise and (Third) Fall of Beto O'Rourke
Beto O'Rourke's recent loss in the Texas governor race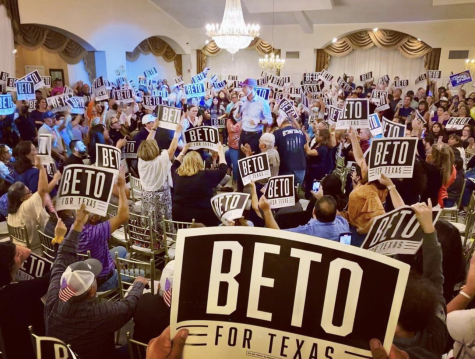 After his third race in the last four years, the name Beto O'Rourke has become a familiar one in headlines. His most recent race? Texas governor. This goal was not a simple one, for if he had won he would have been Texas' first Democratic governor since the 1990s. So what happened?
A powerful force in Texas politics, many Democrats had hope in Beto prior to the election. He was already a household name and could raise money quickly and easily for his campaign. While his opponent Greg Abbott's campaign focused on the Texas economy and the often debated topic of migration at the Mexican border, O'Rourke highlighted other issues. From gun control to abortion rights, his campaign touched on pressing topics. Though relevant matters, it seemed as though his ideas may have been too radical, dissuading Texans to offer their support and their vote. 
Back in 2019 in his run for president, Beto made a bold and controversial statement that's managed to linger throughout recent years. At the Democratic Presidential Debate in 2019, he proclaimed, "Hell yeah, we're going to take your AR-15." Since then, he's continued his movement for gun control but reigned in his approach to the issue. Though his campaign style has since changed since his 2019 run, Republican and Democratic Texans alike haven't forgotten this statement.
His recent campaign for governor was first launched focusing on the tragedy in Texas after the electrical grid failure. Beto went against Governor Abbott after the electrical grid failure killed hundreds of Texans in 2021. Slowly, he moved his campaign focus to abortion following the landmark Supreme Court case Dobbs v. Jackson and the Texas trigger law.
Statewide, thousands of Texans showed up at rallies for O'Rourke and despite high rally turnout, voter turnout was ultimately O'Rourke's downfall, with lower numbers than his run for Senate in 2018.
Though he ultimately lost the race, Beto held a strong campaign, amassing many volunteers and collecting donations nationwide. It's estimated that between just February and June of 2022, O'Rourke had already raised an impressive $27.6 million. By the end of his campaign, O'Rourke received 1,432,560 donations, raising a total of $76.6 million. While a majority of these donations came from in-state support, around 40% were out of state, highlighting his nationwide support. Despite the loss, this network of supporters will be extremely useful in the future, whether that future holds another campaign or not.