Top Ten Albums of 2022
Contributor Ramona McNish's musical favorites of 2022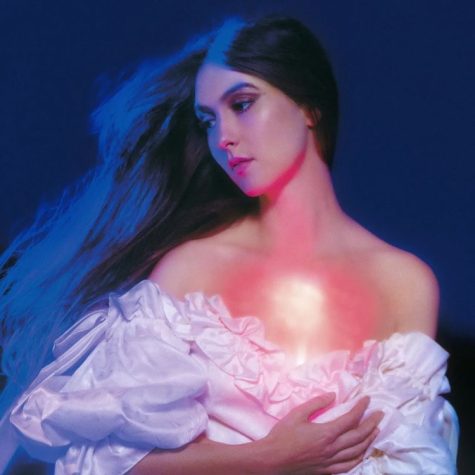 1. The 1975 – Being Funny in a Foreign Language
The 1975 topping a list in 2022? It's surprising to me too, but Matty Healy's "finally went to therapy" record is meticulously crafted and mature, without losing the signature 2014 ripped skinny jeans sound that fans love. Funny, clever, and full of bravado, Being Funny in a Foreign Language is a beautiful, interesting release. 
2. Big Thief – Dragon in the New Warm Mountain I Believe in You.
A warm and comforting folk album, Big Thief's latest release is one I find myself returning to over and over again. Lead songwriter Addrienne Lenker continues to describe the world in gorgeous, and grotesque terms, never losing her sense of wonder. The love between bandmates is palpable. 
3. Ethel Cain – Preacher's Daughter
Ethel Cain's long-awaited first full length release lives up to the hype. Dreamy and complex, Preacher's Daughter solidifies her prowess as a writer, and shows a unique ability to tracklist and create a cohesive story. In the age of Tiktok and short attention spans, Ethel Cain creates epic character studies, and keeps her audience invested in emotional arcs.
4. Ella Jane – Marginalia 
Despite being technically an EP, Ella Jane's second project absolutely deserves a spot on this list. Marginalia showcases her cerebral and poetic songwriting abilities without lagging, or costing her the catchy pop melodies which have named her a rising star. 
5. Taylor Swift – Midnights 
Taylor Swift albums are often overshadowed by her star power, and grand self mythology, but on Midnights, Swift directly addresses her pop star persona. Despite its length, Midnights remains both interesting and cohesive the whole way through, marking her long awaited return to pop. 
6. Weyes Blood – And in the Darkness, Hearts Aglow
Weyes Blood's second record feels almost religious. Full of yearning and romance, her ballads ebb and swell, taking full advantage of orchestral glitching technology. Her writing remains sharp as ever, but with this album she comes into a new, more removed and forgiving perspective, describing the character's in the tracks with love absent from previous projects. 
7. Skullcrusher – Quiet the Room 
LA based indie folk artist, Skullcrusher, released her first full length project this October. Sonically lush and sprawling, the record achieves nostalgia without feeling tired at any point. Diaristic and dark, Quiet the Room begins a career with rare maturity and perspective. 
8. Charli XCX – Crash
Charli XCX knocking it out of the park on a dance pop album is never a surprise, but always a pleasure. She achieves her signature brand of tongue in cheek pop girl brat effortlessly, and with good humor, on her most recent release. The production manages to stay fresh without straying away from the sleek hyperpop that fans have come to expect.
9. Alvvays – Blue Rev
The giant pop anthem sound of Alvvays's third studio album does not distract from the emotional and personal writing. Referential and complex, the songs twist and turn around the concept of heartbreak, creating a biting witty record. 
10. FKA Twigs – CAPRISONGS
FKA Twigs shows a lighter, more frivolous side of herself while never letting go of her intellect, and high concept production. Features are carefully chosen, and fizzling with chemistry. Sparkling and fluorescent, CAPRISONGS is a futuristic triumph.