Bishop's Foodies: Brenda's Review
A description and review of New Orleans-styled restaurant, Brendas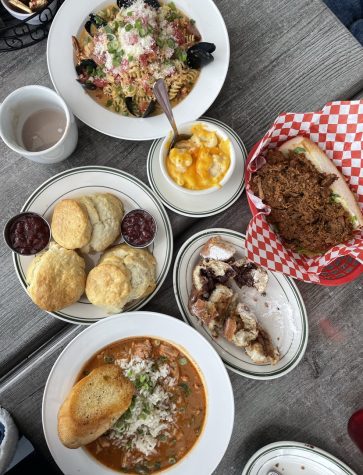 A grey building on the corner of Broadway and 41st houses Brendas, a charming restaurant of New Orleans-style southern cuisine. Together, we (Amia, Will, and Bella) arrived for lunch, excited to enjoy a nice meal together. The restaurant immediately proved to have good service as they were sat quickly at a nice table on the patio. 
First up on the menu: Drinks. Will ordered a classic vanilla milkshake and Amia ordered a hot chocolate. The hot chocolate was at the perfect temperature when it arrived, which we found to be uncommon for hot drinks. Though the chocolate flavor was a bit too diluted, the whipped cream was a nice touch. Will enjoyed his milkshake calling it a "classic, well done."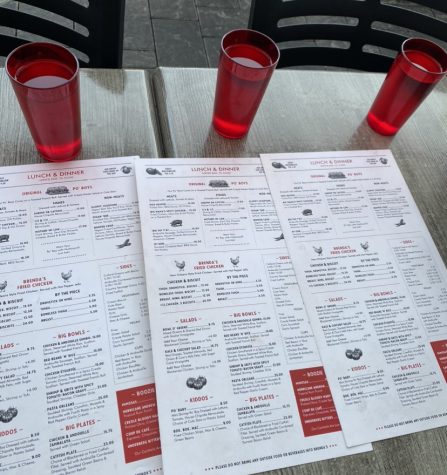 As the lunch went on, the environment of the restaurant was notably pleasant. There was music playing and chatter all around. As "Ain't No Mountain High Enough" blared from the speakers, mixing with laughter, Bella commented on the restaurant's ambiance, "See, even the music hits!" The restaurant had been her recommendation and so far, it was a sensation.
The beignets arrived next and their presentation was flawless. The dish offered three differently shaped pastries, filled with either chocolate, apple, or left original, all covered with powdered sugar. "It smells nostalgic," noted Bella. The layers were light but creamy, with an addictive flavor that left them wanting more. The chocolate was rich and flavorful, the apple one delicious, and the original flaky and buttery. They were a wonderful beginning to the meal.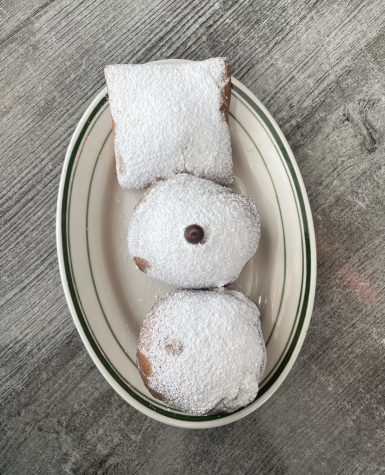 We scourged the menu searching for what to order. The menu was very straightforward and color-coordinated, which was a nice aesthetic touch that elevated the culinary experience. The dishes even had charming names such as, "Bok, bok, mac" and "Hog Heaven." Even though its target meals were chicken, the restaurant had a very inclusive food section, with both vegetarian and vegan options. It was also very kid-friendly, offering kids' meals. "Everything sounds so good I can't decide what to order," remarked Amia.
Will ordered "Hog Heaven", Bella ordered the "Chicken Etouffee", and Amia ordered "Pasta Orleans" with a side of mac and cheese. All three of us got biscuits, which are known for being fantastic. The food arrived, and just like the beignets, the presentation was beautiful. Immediately digging in, we were entranced by the food. Flavorful and delectable do not even begin to describe these meals. The "Hog Heaven" was a classic pulled pork sandwich with a side of coleslaw, and even though it was not revolutionary, it was pretty good. The "Pasta Orleans" was a spiced creamy pasta with shrimp and mussels. It was spicy, but not overpowering, and the seafood was not overcooked. The fishiness was not overbearing but the seafood flavors still came through, making the meal nicely balanced.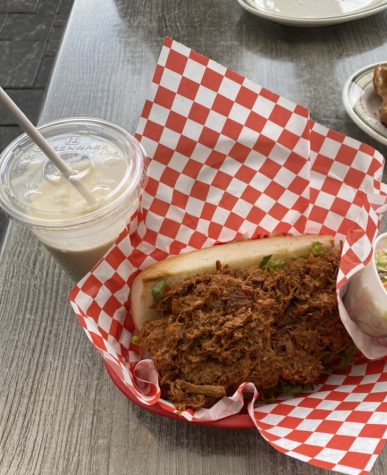 The biscuits deserve their own article, but for now, a paragraph will do. They were buttery, flakey, and melt-in-your-mouth delicious. They crumbled delicately and were the perfect end of a good meal. They were paired with spicy strawberry jam and butter, which gave them a nice kick.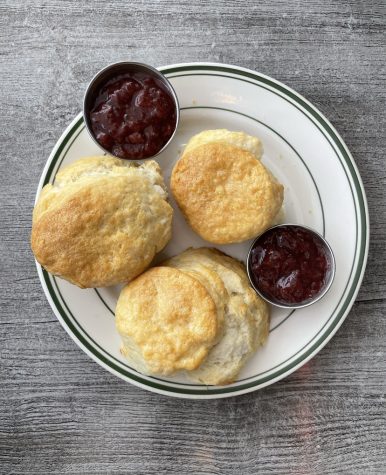 Next, the "Chicken Etouffee" arrived. For those who are not Southern food connoisseurs, an Etouffee is a stew-like meal. It consists of a thick broth with chunks of chicken thigh and breast, smothered over rice. Etouffee actually means "smother" in French. This meal was bursting with Southern flavor; the trifecta of onions, bell peppers, and celery acted as a strong foundation for all of the colorful flavors to work in harmony to complete the dish. The dish was garnished with green onions and a piece of toasted bread. All in all, the "Chicken Etouffee" is an amazing combination of Southern flavors that managed to stir up a nostalgic feeling in us, despite our communal lack of New Orleans' roots.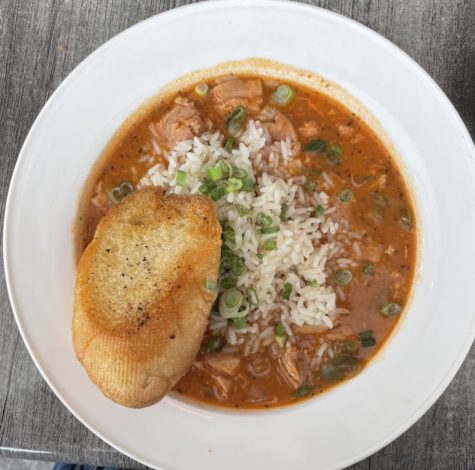 When we were ready to leave, we asked our spectacular waitress Marisa for the check and some boxes to go, unable to leave behind the mouthwatering food. Our total came out to $104.73, which got us four dishes, two sides, and two drinks. This was such a fun experience and we completely recommend it.
Sincerely signed,
Bishop's Foodies.