A Rollercoaster of Tastes & Emotions: Journalism's Crepevine Review
From the environment to kids and adult cuisine, journalists Hillary Johnson and Orelia Oiknine '23 give their thorough takes on a Bay Area classic brunch spot.
This charming and endearing restaurant is the perfect place for breakfast, lunch, or dinner. Crepevine not only has delicious comfort food, but the environment is also inviting, festive, and sweet. The restaurant was founded in 1992, and since then has expanded into a large chain of restaurants. Crepevine has establishments all across the Bay Area, making it a well-known spot. As referenced by the name, Crepevine specializes in crepes, but its menu is highly versatile. Crepevine offers sandwiches, salads, pasta, and other breakfast items at all hours.
Even in the midst of a pandemic, Crepevine has continued serving the public in COVID-safe ways. The delightful outdoor seating is not only pandemic-safe, but it's also weather-friendly. There is a roof to protect from rain and heaters to protect from the cold. The indoor seating is noteworthy as well, as there is a sign claiming that proof of vaccination is required to be seated indoors. However, when we, Hillary and Orelia '23, came to the College Avenue location, we were not asked for proof of vaccination. While this does not erase the efforts Crepevine has made to stop the spread of COVID-19, it does suggest that it may be unreliable at times.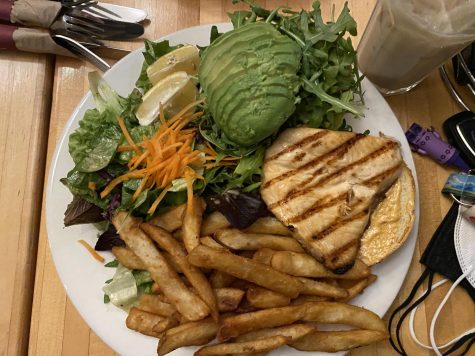 We stayed nonetheless, and ordered two hot chocolates, a grilled cheese, and a sweet crepe. The hot chocolates were extremely delicious and aesthetically pleasing. They were garnished with whipped cream (added cost, unfortunately), chocolate syrup, and cinnamon. Next, however, the grilled cheese was a disappointment. It was soggy and did not taste very "grilled". The cheese had a strange taste as well, but it was partially saved by its side of delectable fries. Despite the peculiar taste of the grilled cheese, it was arguably a good deal, as the grilled cheese is listed under the kid's menu. We are 16 and 17 and even though the kid's menu claims to only serve 12-year-olds and under, we were served. Moreover, the Rockridge sweet crepe was yummy and generous in portions, served with ice cream and thick whipped cream. This contrasts with our past crepe experiences, as the savory crepes are not such a hit. They are expensive and somewhat bland in flavor. Nevertheless, their portions are tremendously generous, which makes dining at Crepevine a bargain. 
Next, we interviewed two waitresses. First was Sabin Sabin Shresta. When asked about her experience working at Crepevine, Shresta expressed, "I really like customer service jobs so I can talk to people and not be isolated. It's als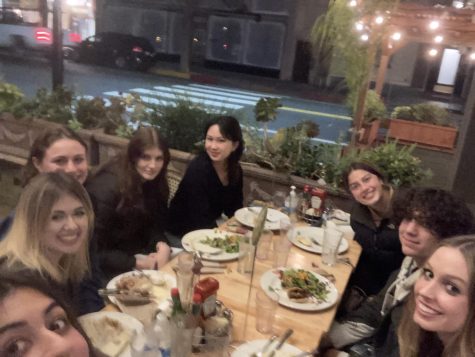 o pretty safe and as we all know because of COVID it's scary to work in service but every employee here must be vaccinated. It's a good commute for me as well, because it's so close to Bart." However, Lauson Kai, another waitress, has had differing experiences.
She shares, "Yeah I love working here. The only problem is the customers. We've had adults throw tantrums and throw money at us and call us 'penny pinchers'." Shresta also told us that working at Crepevine has good money and good tips, making it worth it. Finally, Shresta and Kai told us their favorite items on the menu. Shresta's is the Mediterranean Sandwich (Hillary's as well) and Kai's are the Big Sur and the Asian Chicken Salad. They both informed us that the most popular items on the menu are the sweet crepes among the kids, and the Bangkok salad and Black Stone among the elderly.
After our initial interview, we were so enthralled by the atmosphere that we invited the entire journalism class to join us. We all went to Crepevine on a Wednesday night, and had a great time! Our favorite item we ordered was the kids Mac and Cheese. In all, despite some ups and downs, we encourage all of our readers to come out to give Crepevine a try!