Racism, Assault, and Fatphobia Runs Rampant at Brandy Melville
The toxic environment of every teen's favorite brand.
Trigger Warning: This article mentions instances of sexual assault.
Brandy Melville, a private company with stores in at least fifteen countries, is a closet essential for teen girls across the world with an estimated revenue of above 250 million dollars a year. Despite the changes in trends, Brandy Melville manages to remain relevant and at the forefront of teenage fashion. The multi-millionaire brand is praised for its delicate, dainty, trendsetting clothing, yet still has many problematic morals.
The store has been scrutinized for not having enough people of color models or employees. However, the company has dismissed the complaints, claiming it as simply an aesthetic and artistic choice. Recently, Brandy Melville was exposed for denying Black and pluss sized women jobs. Former Senior Vice President Luca Rotondo told Business Insider that he was instructed by the CEO of the brand, Stephen Marsan, to hire girls who fit "specific criteria." Rotondo also states, "If she was Black, if she was fat … he didn't want them in the store." Silvio Marsan, one of Brandy Melville's founders, has ignored all requests for a statement in response to these claims. Marsan has also allegedly removed Black shoppers from his store without a reason. The few amount of Black employees Brandy Melville has employed have expressed that they were given the least busy shifts, and were often fired and replaced with white girls.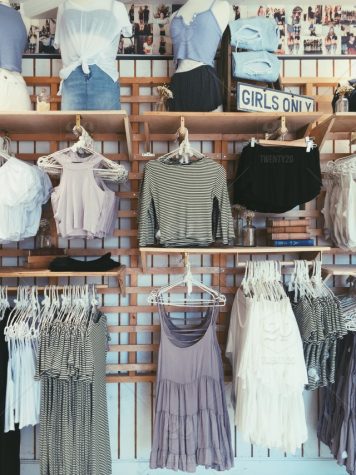 Due to the reported discrimination, Brandy Melville is facing two lawsuits by Canadian store managers. These managers claim that they lost their jobs for declining to fire employees due to their appearance. Marsan and the other managers facing lawsuits have failed to publicly respond.
Moreover, Brandy Melville's clothes lack size inclusivity. The store has a one-size-fits-most policy that was adopted in 2013 when Marsan ordered his workers to get rid of all clothing apart from the three smallest sizes. As a result, employees as young as fourteen have been expected to send in full-body photos before receiving a job.
Not only this, but former employees have come forward with stories of being sexually assaulted while working there. Brandy Melville employees have reportedly been asked to remove their clothes and try on new ones in front of male management. In 2015, a twenty-one-year-old manager of a Soho store broke the silence and expressed that she was sexually assaulted by a man who ran several stores.
Bishop O'Dowd junior Gabriella Maniatis shared her perspective on the newfound information on the brand. She states, "I was extremely disappointed when I found out about Brandy Melville's racist attitudes. They're a brand that has an incredible influence over teen girls' image of themselves and to target skin color on top of their already exclusive sizing just adds to the disappointing image they project onto an impressionable youth audience."
While Brandy Melville has refrained from commenting on their widespread controversy, many customers continue to buy from their stores, while others have began to boycot the brand. Ultimately, audiences will have to wait to see if the push against the brand in the news will result in any material change.