Eco Leaders Take Earth Week
In honor of Earth Week, the Eco Leaders planned many activities, including a Lake Merritt cleanup.
From April 19 to 23, Bishop O'Dowd's Eco Leaders led Earth Week, organizing fun, engaging online activities for the O'Dowd community to participate in. Each day was a theme: Energy, Land, Water, Climate Action Day, and Animal Day. Eco Leaders wanted to educate their peers on how to be better stewards to the planet and how to care for the environment. The Eco Leaders put a lot of time and effort into the events, beginning to plan about two months ago. Last year, Earth Week was difficult to prepare for due to the unexpected obstacle of coronavirus. However, having already adapted to the ways of online learning, this year's Eco Leaders were able to prioritize the most participation and involvement possible despite having to stay within quarantine guidelines.
Every day featured a video, including Living Lab leader Mama Prutz and her words of wisdom, O'Dowd students on their favorite aspects of nature, what commitment they are making to help the Earth, and many other informative and educational topics. Eco Leader Cecily Hayes 21′ explains, "Through all the hard work and planning, it was rewarding to see the week finally come together with a very noticeable presence online." With Schoology posts and an active Instagram, Earth Week was surely present to the O'Dowd community.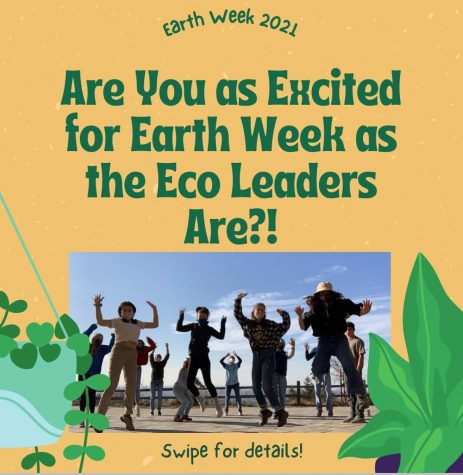 Despite Earth Week 2021 being a predominantly online event, the Eco Leaders planned a cleanup to coincide with the theme of Water Day. On Wednesday, April 21st, students met at the Fairyland sign for the cleanup. The turnout was impressive, with about 20 students and 12 Eco Leaders. Mostly freshmen, the students were excited to help and take time out of their busy lives to make a difference. Not only was the day rewarding because students were able to visually see their positive impact by picking up trash, it was also amazing to see people off-screen. The Eco Leaders noticed how happy the Freshmen were to see peers they might not have ever met before or ever seen outside of a Zoom setting. It was a powerful day of cleaning up arguably the heart of Oakland, while also being able to see the connection that comes from working together as a community.
Being an Eco Leader myself and also at the event, I noticed countless people walking or running on the path thanking us for our efforts. They were so grateful that youth were taking action to better the land and cleaning up the trash of others. I think the appreciation from random strangers made it clear to everyone that a little effort goes a long way. This was a simple cleanup, yet it made those who were participating feel valuable in bettering the earth and making Lake Merritt a safer, cleaner place.