Bishop O'Dowd to Cal: A Basketball Pipeline
A look into the cycle of Dragons to Bears.
Another commit, another dream one step closer to fruition. With the recent and exciting news of current senior Marsalis Roberson, O'Dowd has added another prospect to not only college basketball, but to the hometown school, University of California, Berkeley.
Over the past 5 years, Bishop O'Dowd has produced a sizeable amount of collegiate basketball players. The system is incredibly well run by Coach Lue and the rest of the Athletic Department is based on hard work, dedication, and togetherness. The entire program, Freshman through Varsity, is well-knit and stand out on campus. Out of all the scholarships and athletic offers our basketball players have been receiving, Berkeley has become a hot spot for O'Dowd graduates.
Back in 2015, O'Dowd produced one of its best players, Ivan Rabb. As a Dragon, Ivan won two CIF Northern California Open Division basketball championships and one CIF Open Division State Championship. He competed in the summer for the AAU's Oakland Soldiers and as a senior, Rabb averaged 24.5 points, 16.3 rebounds, and 4.5 blocks. He was one of the best big men in the nation and chose Cal over schools like Arizona, Kentucky, Kansas, and UCLA, as well as many other elite basketball programs. At Cal, Rabb played two years in which he earned all PAC-12 honors and declared for the NBA Draft in 2017. He was drafted 35th to the Memphis Grizzlies and is now a rising prospect in the Knicks organization.
Next up, Paris Austin. Paris' path to Cal was a bit different compared to his peers. Paris was a standout 3-star point guard as a Dragon and graduated in 2015. In 2014, he committed to Boise State University but after two years of playing there, he transferred to Berkeley for his collegiate and academic career. At Cal, he averaged around 30 minutes a game and over 1o points per game, making him a standout player in the Pac-12 north in his junior and senior years.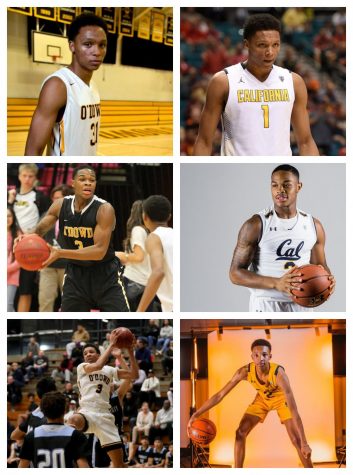 Monty Bowser has just started his collegiate career in Berkeley. Monty is a 6'6, 185 pound small forward who is a standout freshman for the Bears. He was born and raised in North Carolina and moved to the Bay Area in his sophomore year of high school. Monty made Varsity by the time he started in the program and was a crucial player to the team for three years. He helped bring the team to the regional semi-finals his junior year and was the senior captain leading his team to a state championship before COVID-19 shut down the season. He also was a standout player on the AAU Circuit as he played for Damian Lillard's AAU team and showcased his talent over the summer. It was incredibly unfortunate for Monty to not have the opportunity to win the open division state championship as a senior, however, his career made an impactful mark for Dragon Hoops forever.
Last but definitely not least, up and coming senior star Marsalis Roberson. With offers from Cal, Stanford, UCSB, Cincinnati, Nebraska, and Cal Poly, Marsalis chose to stay in the Bay as well. The now 6'6 slasher started his high school career in Sacramento, but after the passing of his father, he moved to Oakland to live with his mother and play for Coach Lue. Marsalis played JV sophomore year which gave him time to grow and master his craft. By junior year, he was a key starter on Varsity. In an interview with 247Sports, Marsalis stated, "I chose Cal because I have a really good relationship with the coaching staff and I like their play-style and also they were recruiting me the hardest… Coach (Mark) Fox called my grandpa, my mom, my uncle, basically, my whole family and no other coaching staff did that so that was cool."
Clearly, a relationship is being progressively built between the O'Dowd program and the Cal coaching staff. In an interview with scholar-student and varsity basketball player, Matt Desler '21, he shared how he felt about his brothers moving on to the NCAA. He claims, "to see my teammates and former O'Dowd basketball players stay close to home by playing at Cal is honestly incredible. I think that Cal feels confident recruiting O'Dowd players because they know Coach Lou does a great job in preparing his players to succeed at the collegiate level. Our team competes at a very high level each and every season, making the transition to college hoops less daunting." The future is bright for our fellow Dragons and there is no doubt more stars will be born very soon.