Redfishstream: The Eyeopening Instagram Account
Redfishstream, a popular Instagram account, posts about important political and social movements around the world, but has faced backlash.
It is easy to forget that while we are going to school and spending time with our friends and families, there are countless people around the world fighting for their rights. This is why I follow an Instagram account called @Redfishstream. 
In their own words, "Redfish is a media company that creates critical investigative short-docs aimed to inspire social & economic change." Since their first post on November 10th, 2017, they continue to publish contemporary and historical stories of protests, people overcoming oppression, and those who speak out against the status quo.
They have gathered 335,000+ followers, one of which is Bishop O'Dowd's Luke Ulman' 22. He describes, "I feel I get current event news that I wouldn't normally get from a mainstream news outlet. To me it gives the rougher truth; it posts images and videos of people in distress and turmoil from around the world to illustrate what is happening."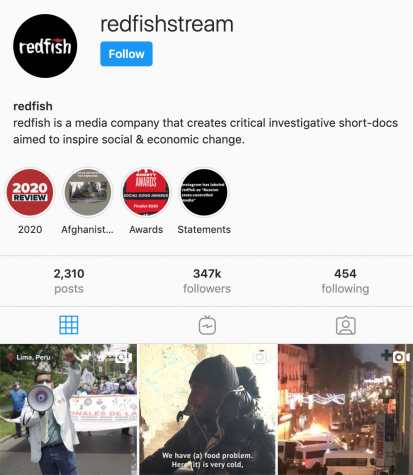 Based in Berlin, Germany, Redfish's managing director is Lizzie Phelan. Phelan has previously worked for The Daily Mail, Morning Star, Russia Today, and freelance journalism in Libya during its NATO lead military occupation. Her work with Russia Today has prompted accusations of Redfish being a source of Russian propaganda. This is because Russia Today has been proven to release Russian propaganda and false and misleading stories. A news company owned by Russia Today called Ruptly also happens to help fund Redfish. This information along with Redfish's stance against capitalism has further intensified this argument. 
Redfish has addressed these rumors, stating, "Redfish is an editorially independent media outlet with a track record of covering stories that don't make it to the mainstream or are being distorted by mainstream factors. While Redfish receives funding from Ruptly- part of the RT Network, we have our editorial line and are not subject to state control." Although there is no proof for this claim, Redfish's content seems to be factually accurate through photo and video evidence.
While people continue to be skeptical of Redfish, it still educates people on important protests and movements around the world, many of which are not getting coverage by the mainstream media. On December 2nd, they posted about a protest by farmworkers in Delhi, India. This post contains three slides, depicting farm workers marching, speaking, and praying in the streets of Delhi. It was in opposition to new laws passed by the government that would grant more power to agricultural companies than the workers themselves. This protest followed a national strike by 200 million workers on November 26th, the largest recorded labor force strike in world history. Without Redfish, many people would never have known about both of these events. Other recent Redfish stories include ongoing Thailand student protests against their monarchy, Guatemala protests against government repression and corruption, and Paris protests against a bill that could endanger freedom of the press. All of which came with cited photos, videos, and descriptions.
Redfish also posts about underrepresented historical figures that have spoken out or fought against government corruption and the oppression of the working class. Some of these include posts on Palestinian revolutionary resistance leader Ghassan Kanafani, Mexican revolutionary leader Emiliano Zapata, and Sophie Scholl, a cofounder of an anti-fascist group in Nazi Germany.
Redfish has faced critiques like any other news source but continues to present factual, important information that other media outlets lack.