The Splash Brothers: How O'Dowd Set Up the Ronzone Twins for D1 Success
As Cade and Austin Ronzone take on Tempe and ASU, Cade explains how O'Dowd pushed them to get to a D1 school
Max Kim, Contributor
November 30, 2020
The world has changed a lot since Cade and Austin Ronzone last stepped foot on Bishop O'Dowd's floor, competing for a state championship. They had gone from a game away to the opportunity to play against Sierra Canyon, the flashy and star-studded L.A. high school team, to sitting at home in quarantine, seeing their basketball ambitions for a return to play get smaller and smaller every day. 
For Bishop O'Dowd alumns and current ASU Sun Devils, basketball runs through the Ronzones' blood. Their father Tony is one of the best international scouts in the NBA, finding superstars such as Dirk Nowitzki and Luka Doncic. To top it off, their godfather is Yao Ming, who is considered one of the greatest foreign basketball players of all time.
So for Cade and Austin, to get accepted in a Division I school where they could carve out a role as a freshman, it was a no-brainer to accept the offer and prepare for the next season. Known for being the gritty knock-down shooting senior in the 2019-2020 O'Dowd basketball title chase, Ronzone explained how his journey to D1 basketball was fueled and assisted by the O'Dowd coaching staff and his ambitions for the upcoming campaign.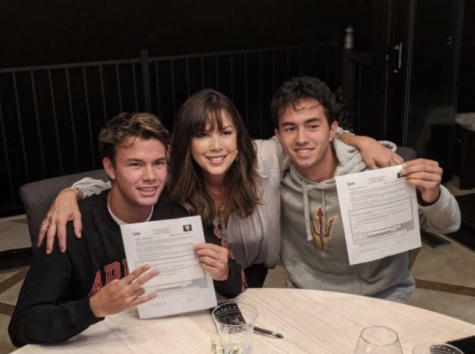 "They'd make sure you'd never slack off," Cade emphasized when asked about O'Dowd's player developmental staff, which had groomed plenty of future D1 and professional athletes. "They prepared me for the real-world in sports. The reps, the conditioning, the practices, they all prepared [Austin] and I for the college experience, on and off the court." At Arizona State right now, the brothers are preparing for a December collegiate debut to don a Sun Devil jersey. Within recent years, defensive stopper Luguentz Dort was drafted and signed to the Oklahoma City Thunder, and the scoring guard Nico Mannion, was just drafted by the Golden State Warriors days ago. The Sundevils have a backcourt need of minutes, and Cade hopes he and Austin can fill in the vacant slots by bringing intensity on offense and defense. Cade felt his defense went under the radar to some O'Dowd fans, as most remembered him for his offensive output. He explains, "At O'Dowd, I was a lockdown defender if you saw the tapes and footage of games. I'm also excited to play more point guard next season." 
Bishop O'Dowd itself is known for competing at the highest level in California sports, sending player after player to D1, D2, or D3 schools to compete. Cade himself was thankful for the intensity brought to the games, as on and off the court they were prepared for the college experience. "The program really prepares you for the next level and for higher competition, and compared to other schools it's top-notch and prepares you for the college experience… they balanced [our schedule] by scheduling our plans and appointments while keeping us on track and gave us a plan, which we followed to make sure we were ready."
In March, with COVID-19 quickly spreading across the world, players were uncertain about how much longer the title-chase could be pursued before the inevitable shutdown. Despite this, the coaching staff kept the player's worries in check and helped keep the ship steady by easing doubts and motivating them to play even harder. "They kept us focused on the next game at a time. The coaches told us to 'play every game as it was your last' and made sure we stayed in the moment and be prepared." Cade smiled when describing the coaching staff, a hint at how much he enjoyed it. 
Cade and Austin are now settled in their apartment in Tempe, Arizona, patiently waiting for the spotlight to shine once again. Cade reminisced on the old days, the excitement when they found out their dreams would come true. He describes, "I mean, Coach Bobby Hurley called us and asked if we wanted to be apart of the program in the end. They were recruiting us for a while, and eventually, Austin and I narrowed it down to be the school we'd attend. It's ranked 18th in the nation and it ended up working out for both parties."
Be sure to watch Cade and Austin (coincidentally, also former Crozier writers and editors) playing in college mashups through the rest of the season. Cade's team takes on another former dragon's team,  Monty Bowser' 21 and Cal Berkeley on December 3.